About ARGO
Incorporated company Argo was Founded in 1987 as vision component and system supplier in Japan. Argo of a company name originates in the Argonaut of Greek mythology. We are specialized trading company with pioneering spirit that imports technological products such as industrial imaging equipment, special sensors, measurement units, and software from all over the world. We distribute them and provides technical support under the keyword of " Innovative technology not found in Japan from the world." Targeting niche markets in all fields, we are creating new markets by introducing technological products with features created by daily technological innovation in our world. Recently, we are expanding our business half a step ahead of the changing times, targeting Next-generation automation technology, Sensing in the connected industry, Smart City, Network advanced information security, Medical & Life science, Carbon neutrality, and New driving device. Characteristic products are supplied to the market by original marketing and the selling system. Argo is the soul of the "NANIWA merchandise" of the Osaka culture.

Company Profile
Company Name
ARGO CORPORATION
Established
1987
Paid-in Capital
JPY 20 million
Employees
23
Address
Shin-Osaka Doi Building No.5 7F, 1-2-4 Miyahara, Yodogawa-Ku Osaka, 532-0003, Japan
TEL
+81-6-6151-9283
FAX
+81-6-6151-9284
WEB Site
https://www.argocorp.com
Email
argo@argocorp.com
Bank
MUFG Bank, Ltd. , Esaka Branch / Sumitomo Mitsui Banking Corporation , Esaka Branch
Products line

Industrial & Scientific cameras

Smart Camera, Photon Counting, IIMCP, USB3.0&2.0/USB Vision, Gigabit Ethernet/GigE Vision, 10 Gigabit Ethernet, CoaXPress, CameraLink, CMOS, sCMOS, High speed Camera, TEC Cooled, EMCCD Scientific Camera, Board Module, AutoFocus & Zoom.

3D Sensors

AI Robot Sensor, 360°LiDAR Imaging, 3D LiDAR sensor(Long & Short range, compact, low cost), Light Field & 3D Focus Camera, 3D Scanner, TOF Sensor, Panoramic Camera, Depth Sensor, SPAD.

Spectral cameras & Visualization

Hyperspectral & Multi-Spectral Camera, UV & InfraRed Camera(SW,MW,LWIR), Polarized Camera, Thermography, 2 Point wave camera, GAS Imaging, Magnetic-filed imaging.

Frame Grabber boards / Capture card / GPU Board / Network broadcaster

GigE, CameraLink, LVDS, Analog Composite, Analog & multi-channel, Monochrome, CoaXpress frame Grabber, Display signal capture, DVI, HDMI, DisplayPort, HD-SDI, Analog VGA(RGB), VGA/DVI WEB Network Broadcaster(Bus inter face: ExpressCard, PCIe, USB3.0/2.0, GigE, Network, Wi-Fi), Live Video Production board, Cloud Beamer.

Optical components

Fiber Optics, UV Lens, InfrarRed lens(NIR, SWIR, MWIR, LWIR), Micro Zoom & Macro Video Zoom Optics, Infinity Objective lenses, FMOS, Microscope, Optical Extender, Telecom optics.

Components & Units

Image Data recording & streaming unit, Signal repeater & Convertor, Switching Units, Multi-channel distributor, Random Number Generator, Security Chip, Optical Alignment Cubes, Grid Structured illumination Units, Florescence High Power Illuminator, Radiometer, Robotics Actuator, 3D Force Sensor, Six Axis Force/Torque Sensor, GNNS, IMU, GPS, Wireless sensor, UWB sensor.

Spectrometer & Measurement components

Spectrograph, Raman Spectrometer, Multi-Channel & Multi spectral Instruments, Dual Beam Spectrograph, Micro-nano Spectrometers, Pyrometer, Temperature sensor.

Software

Smart Software Development, Capture Software, Vision & Image Processing Library, Phase, Semantics & Perception development platform, Tracking and Monitoring.

Systems

ECU, High Speed processing computer, 3D Mapping & Autonomous control system, UAV/UGV control, Remote sensing package, AFM, FT-IR, HyperSpectral systems, Confocal microscope, Florescence microscope system.

Network Security & Advanced Surveillance

Quantum Random Generator, Optical sensing &Quantum Convertor, 360°Surveillance system(LiDAR & InfraRed solutions).
Foundation for success
Many years of experience in a vast range of applications means we are able to share this knowledge with customers through product training, technical support and pre-sales advice. Together we will discuss customer's requirements and make recommendations for a solution. We recognize it is often difficult to make decisions based on datasheets and so we offer extensive demonstrations and evaluations. Once a decision has been made we offer the highest standard of technical support to ensure customers get results quickly. We will hold regular meetings to review customer's requirements and keep them informed of the latest technology. Our aim is to build a partnership with customers that ensures a lasting foundation for success.
Team Organization

Markets

Consolidate customers purchasing
An Industrial system comprises several components such as Sensors, Electronics, Software, Network, Computer and so on. By selecting ARGO as customers supplier will have access to all of these products and more…The development and implementation of a solution often requires technical assistance. We simplify this by offering you technical support for all products under one roof and we hold stock of the most popular products to keep delivery times to a minimum. Our operations staff have the commercial expertise and understanding to suit customers individual requirements. Simply by consolidating customers purchasing through one highly experienced supplier ARGO, customers are already on their way to making significant savings and total support.
Together we achieve Excellence
Since its inception in 1987, ARGO has earned an enviable reputation for helping customers create innovative and successful solutions. Our depth of knowledge and experience in a variety of applications is often of major value to our customers. As a distributor for world new leading manufacturers we track the progress and monitor performance of our suppliers to ensure the highest quality of supply and support. By selecting ARGO as customers vision supplier we make a commitment to deliver customer the highest level of service - with the common aim of achieving success.
Access Map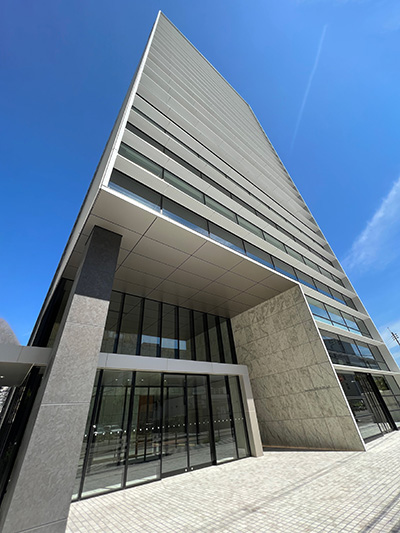 It's a 3 minutes walk from Shin-Osaka station.(Google Maps)